Rats in the Sofa: Extraordinary People Changing Safeguarding Practice in Oldham
Rats in the Sofa is an original piece of music theatre commissioned by Oldham Cares and the Oldham Safeguarding Adults Board to explore safeguarding issues with Oldham residents.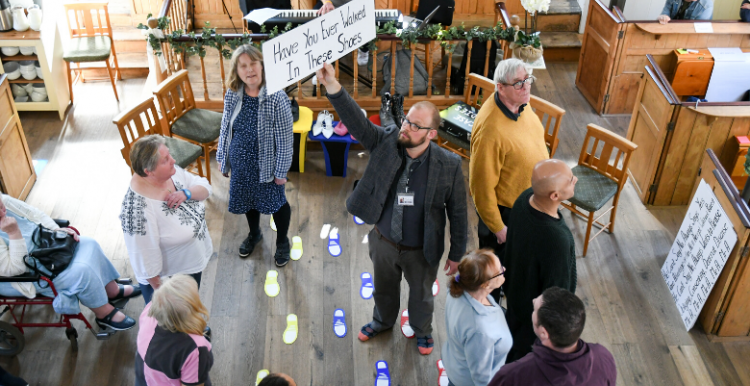 Rats in the Sofa shares people's stories and is a great example of how extraordinary people with their own 'lived experience' have created a show about safeguarding and used it to connect with others in similar situations.
Rats in the Sofa isn't just a performance. It blurs the boundary between audience and performers and creates a safe space for people to share their experiences and ideas about how to keep each other safe and how to support adults at risk of abuse of self-neglect.
The most important thing is that the process benefits both the audience and the performers involved. This project will help professionals working in safeguarding put their work into context and consult with 'real people' in a meaningful and accessible way. This will hopefully lead to better services for all. This process will also help 'real people' experience a sense of authorship over their lives and the world in which they live.
The project was coproduced by Made by Mortals CIC, local people, Healthwatch Oldham, Age UK Oldham and Adult Social Care and jointly funded by the Oldham Safeguarding Adults Board and Greater Manchester Health and Social Care Partnership.
The performance is just the start. We are planning lots more conversations and connections with a wide range of local people to look at how we reduce safeguarding incidents. We are also planning more musical theatre performances as a way of sharing people's stories with front line staff and commissioners, ensuring that the views of local people are at the heart of Oldham's safeguarding practice.
I believe our piece gives the audience that sense of humanity, it challenges people to help a real person and not just a case study. It does this because the group have invented personal details based on their lived experience and their imaginations, and it also does this because the performers themselves are in many ways examples of who those people can/could be.
We would like to thank all the talented and professional actors from the Johnny Barlow Theatre Company who brought this performance to life and created such an exciting and successful event.
You can find out more about Made by Mortals in Paul's blog, including some of his thoughts on 'Rats in the Sofa'. You can access this below: