Men's and Women's Health Forums a Massive Success
Over a six-month period, we held two very successful Health Forums which focused on Men's and Women's Health respectively. Our Women's event took place on the 28 Nov 2018 followed by the Men's event on the 7 May 2019.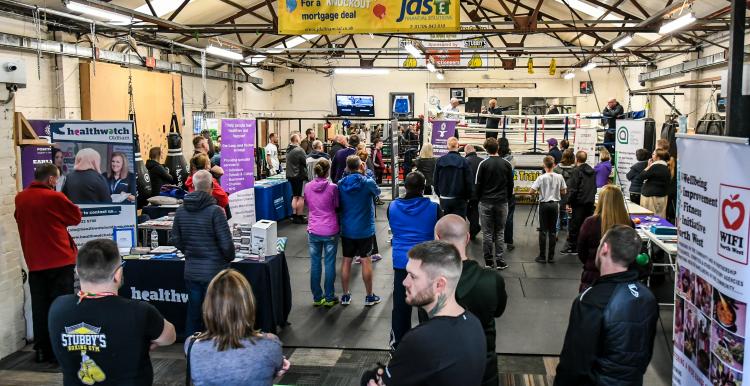 We have been working to ensure that our forums are targeted at hard to reach communities and are looking at areas of health and care that are going to provide informed choice for the people of Oldham.
Women's Health & Wellbeing Event
This event took place at the OBA Millennium Centre which is in Westwood, close to Coldhurst, Chadderton and Oldham Town Centre. The Women's health subject was chosen because we wanted to offer a women's focused health event which offered information and support on women's health issues and healthy lifestyle demonstrations. The Forum had positive responses from Oldham residents who accessed the event - we had 130 Oldham residents attending.
I think the theme was a good idea, focusing on a particular target group and choosing a location easily accessible.
Summary of the event:
Diabetes Screening undertook 24 diabetes screens
NHS Health Checks completed 21 assessments
Inspirational speaker Dawn Nisbett, who shared her own personal health journey and how she became involved in running
Inspirational speaker Rachel Pastore, who talked about breast awareness.
There were 40 health and wellbeing stalls and activities at the event. These included;


Macmillan Breast Cancer Service
Reiki Sessions
Relax and breathe sessions
Zumba taster sessions
Indoor Kayak sessions
Health checks
Diabetes testing

Advice provided on the stalls ranged from;


Maternity service
TB awareness
Cervical screens
Family planning
Breast cancer awareness
Cancer awareness
Mental health services
Early help support
Infections control
Early years information.
Healthy food demonstrations were well received and had a lot of interest both in terms of the food and courses available and a range of recipe cards were given out. We also had positive engagement with Oldham College students and tutors which has resulted in us arranging a Young Person's Healthwatch Health and Wellbeing Event which will take place on 19 September 2019.
Another great event - An excellent combination of speakers and great flow to the full morning.
Men's Health Event
The Men's Health event was organised with the same goal as the Women's event, to offer a men's focused health event where more personal subjects and support and advice could be addressed and offered.
Darren Stubbs, proprietor of Stubby's Gym, which is a boxing and training centre situated in the Trent Industrial Estate in Shaw, very kindly offered his premises as our venue.
Over 50 people attended the event and the Stubby's Gym team provided some boxing demonstrations.
I found the event really useful and a huge success achieving what it set out to do, engage men in health discussions.
Summary of the event:
12 Health checks were undertaken
18 Reiki treatments provided
A range of Health and wellbeing stalls, including;


Positive Steps
Early Help Team
Welfare Rights
Reiki sessions
Macmillan Cancer Support

Inspirational speaker Andy Hall shared his own personal health journey and highlighted the different services in attendance at the event who had helped and supported him
After Andy Hall spoke, I literally gave away all 35 crisis cards that I brought with me, all the Andy's Man Club flyers and the three Samaritan leaflets that I had on me!
What's next?
Our next Healthwatch Oldham Forum is our Active Health Outdoors Family Forum. Held in Partnership with Oldham Council's Environmental Services in Oldham's award-winning Alexandra Park, the event is a follow up to last years successful day which had over 1,000 people in attendance. There will be fun, free, healthy activities for all the family to enjoy.
You can find out more information and book your place at the link below:
https://www.eventbrite.co.uk/e/healthwatch-oldham-active-health-outdoors-family-forum-2019-tickets-62635249718