COVID-19: Your Experiences of Health and Care Overview
We've pulled together an initial overview of our findings to our recent COVID-19 Survey: Your Experiences of Health and Care.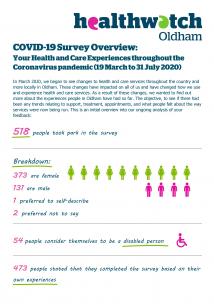 In March 2020, we began to see changes to health and care services throughout the country and more locally in Oldham. These changes have impacted all of us and have changed how we use and experience health and care services. As a result of these changes, we wanted to find out more about the experiences people in Oldham have had so far. The objective, to see if there had been any trends relating to support, treatment, appointments, and what people felt about the way services were now being run.
Below, you can access our initial overview of our ongoing analysis of your feedback: