Healthwatch Oldham: Oldham Pledge Forums Review
Healthwatch Oldham has released a review on the Oldham Pledge Forums which took place in October 2019.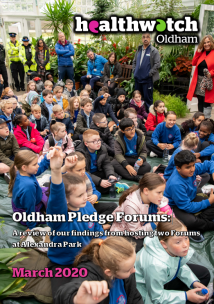 Following on from the publication of the Healthwatch Oldham Report: We Matter: Children and Young People's Mental Health Review, we organised two children and young people's forums in October 2019 designed to support the Oldham Pledge.
The aim was to provide a Healthwatch Oldham Forum for Oldham Primary Schools, which encouraged children to actively participate in a range of health and wellbeing focussed activities, talk about their own health and visit a range of health and wellbeing stalls to find out more.
The feedback from the event was very positive, the park was a perfect venue and schools found out about a lot of providers and offers that they didn't know about previously. The impact of the Forum was represented in infographics and clearly had an influence on informing the young people about ways to keep themselves healthy. This event is to be repeated because of its success in May 2020.
You can access the full review below: