Healthwatch Oldham People's Choice Award Winners 2021!
Healthwatch Oldham were proud to announce the return of The People's Choice Awards to celebrate the hard work that people throughout all health and social care services have delivered to the people of Oldham during 2021.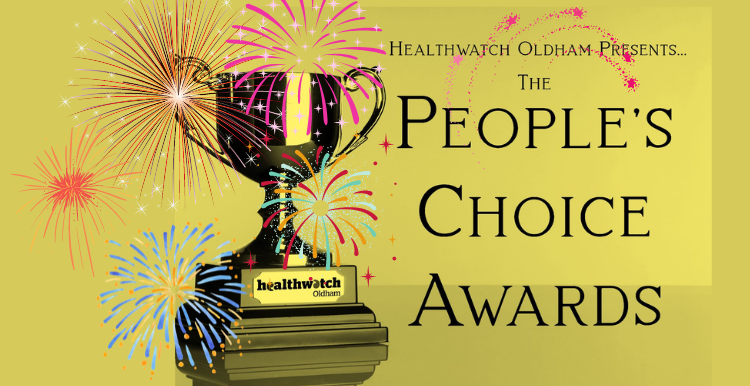 Announced on the 6th December 2021, with voting closing on the 7th January 2022 – everyone was welcomed to vote for who they felt deserved recognition for the hard work they do for Oldham residents. All the nominations have been collated and were proud to announce this year's winners!
Alan Keane - Non Corporate Individual Award
Alan Keane has won an award for his efforts to support Oldham residents in getting healthier and fitter through his work at various local health walks. People said:
He does tremendous work, inspiring us to be all fit and healthy
For his service to the communities in keeping them active during difficult times with the pandemic and 1:1
I've been on several walks lead by Alan and know that I'm more motivated and fitter because of his input and his dedication to helping keep people fit and active during these difficult times. He has gone over and above for the communities they work with and he is a real inspiration.
Alan leading group and single 1:1 walks are particularly useful to me as I have MS and immune suppressed and he has guided me on many 1:1 walks and I'm not the only one!
I think small organisations like this who do so much in the health sector helping people stay active are vital to Oldham and should be rewarded.
Michaela Ridings – Community Support Award
Michaela Ridings has won the community support award for her work with Random Acts of Kindness in Royton, Shaw and surrounding areas. People said:
Michaela works for Random Acts of Kindness in Royton and spends oodles of time marrying unwanted items from people to give to people who have very little!
Pathways To Opportunities – Corporate Provider Award
Pathways to Opportunities has won the corporate provider award for their work supporting adults with learning disabilities, autism, complex and additional needs throughout the borough of Oldham. People said:
I have seen first have the outstanding work they do for people with learning disabilities. The community is truly a better and happier place for having Pathways in it.
Thomas Murfin – Corporate Individual Commendation
Thomas Murfin has been commended for his work in supporting people within his role at Pathways to Opportunities. People said:
All staff are brilliant, but Tom has always been there for Katie over the years.
Victoria Birch - Corporate Individual Commendation
Victoria Birch has been commended for her work in supporting people within her role at Pathways to Opportunities. People said:
I feel she has gone above and beyond not just due to being in a pandemic but this is who she is and delivers excellent services to everyone she supports. She is kind, lovely and everything she does is with a kind heart putting people first at the heart of their support, her person centred practice is on another level. She is flexible, adaptable and she is an all-around beautiful soul.
Holly Brennand - Rising Star Award
Holly Brennand has won our Rising Star Award for her hard work undertaken as Manager of Fern Bank Therapeutic Community Ltd. People said:
Holly has shown amazing leadership, resilience, insight and an innate ability to work with her colleagues to get the best out of them during probably the most difficult time ever and absolutely deserves this recognition and award.
A MASSIVE congratulations to all those who were commended and awarded. The efforts made by all those nominated have had such a positive impact on the people of Oldham over the past 12 months in what has been a another difficult year with COVID-19.
Once again, thank you to everyone for submitting your nominations and we will be producing some certificates which we hope to get out to the winners in the coming weeks.
Congratulations once again!