Healthwatch Oldham Annual Report 2020-21
Healthwatch Oldham is delighted to share with you our annual report for 2020-21.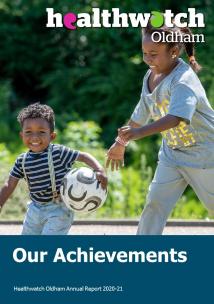 The report sets out the work of Healthwatch Oldham over the last 12 months and includes examples of how we have engaged and supported Oldham residents.
Our year at a glance:
We provided advice and information to 1885 people this year

We engaged with and supported 1603 people during the COVID-19 pandemic this year.

We published 10 reports about the improvements people would like to see to health and social care services. From this, we made 52 recommendations for improvement.
I would like to take this opportunity to thank everyone who has worked with us and helped us deliver on our work plan over the past year. Our amazing team work so hard to ensure Healthwatch Oldham is at the heart of change and influence but none of our work would be possible without colleagues in Action Together, our Healthwatch Oldham Board, the residents of Oldham who participate in our surveys or the many partners and stakeholders across Oldham who work with us to deliver on the needs for the good people of Oldham. This past year has been tough on so many, however, a key lesson for us all is we can only affect or make a change by working together in collaboration and partnership.