Healthwatch Oldham Annual Report 2019-20
Healthwatch Oldham is delighted to share with you our annual report for 2019-20.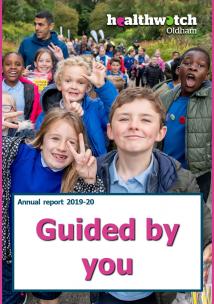 The report sets out the work of Healthwatch Oldham over the last 12 months and includes examples of how we have engaged and supported Oldham residents.
Our year at a glance:
979 people shared their health and social care story with us
3338 people accessed Healthwatch advice and information online or contacted us with questions about local support
3684 people engaged with us through our website, over 1500 people engaged with us through social media, and 2946 people engaged with us at community events.
We published 7 reports about the improvements people would like to see with their health and social care, and from this, we made 43 recommendations for improvement.
Ben Gilchrist, Healthwatch Oldham Manager said:
"As this report shows it has been a busy and impactful year for Healthwatch Oldham. The COVID-19 pandemic has of course had a wide range of impacts on Oldham and our work but it has only reinforced our commitment to improving the experiences of health and social care services for Oldham residents.  Now more than ever we need to make sure people have their say and that their experiences are heard. We want health and social care services to work with local people to find the new solutions and the path to recovery so badly needed. Healthwatch Oldham is here to ensure this happens."