Healthwatch Oldham 100: New Year Blues Findings
Our first Healthwatch Oldham 100 survey of 2020 was to look at peoples mental health during the winter months.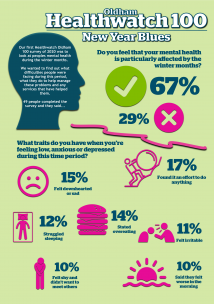 Taking place before the current pandemic reached the UK, we wanted to find out what difficulties people were facing during this period, what they do to help manage these problems and any services that have helped them.
We have created a series of infographics which you can access at the bottom of this article.
A quick summary:
Most people feel their mental health is affected by the winter months
People state the most common symptoms are finding it an effort to do things, overeating and feeling generally low
Most people have spoken to a family member about their feelings but of those that didn't the most common reason was that they wanted to sort things out themselves
Most people haven't had a formal diagnosis with regards to their mental health
People stated that the most common way to try and manage symptoms is to go for a walk
Stress at work and living with a long term condition was the highest cause of stress for people
Most people admit that they overeat and have an inactive lifestyle
Most people have tried to eat a healthy diet
We understand that people provided this feedback before any kind of lockdown came into effect. However, now more than ever, our mental health and wellbeing are so important to look after.
Results from this survey show that people are aware of the steps they need to take to try and improve their overall mental health and wellbeing, but admit to not always undertaking these actions.
Challenges
People highlighted their stress levels largely revolve around workloads and long term health conditions. These are areas that are undoubtedly affected by the current lockdown as people are having to continue their work as a key worker, some are able to work from home and some cannot continue their work at this present time.
In addition, those with long term health conditions may be uncertain about how to manage their health, medication, appointments and any possible developments of symptoms. All these areas present their own challenges for people and services are offering a range of support which will help tackle these concerns.
Moving Forward
With the UK currently in lockdown, it's now more difficult to try and manage our wellbeing but that doesn't mean that it's impossible. Some of the areas people understood to help their wellbeing were...
Walking
People showed awareness that going for a walk was one of the best things to do to clear the mind and to get a good form of exercise. Under the current rulings, it's permitted for you to undertake one form of exercise a day and this can be a walk in your local area as long as you adhere to the social distancing 2-metre ruling. If this guidance is changed over the Bank Holiday weekend then it's still possible to do exercise at home to help manage your wellbeing.
Healthy Diet
Now is also a good time to look at your current diet and whether you can try new foods in the kitchen. A range of recipes and support is available online and we have more information on this later. 
Conclusion
Whilst we're living in uncertain times at the moment, there are still plenty of things we can to manage your mental health and wellbeing. Therefore, we have put together a list of advice, guidance and information which we hope will help you to tackle the challenges you face during this time.
You can access this support and information here: