Talking About Dying: A Review of Palliative and End of Life Care in Oldham
Healthwatch Oldham has undertaken an End of Life Review to gather the experiences of families and carers who have supported a family member through palliative and end of life care in Oldham.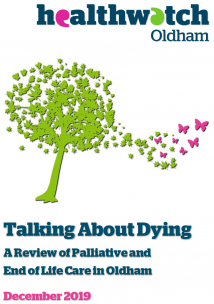 Between July and December 2019 Healthwatch Oldham carried out a review of palliative and end of life (EOL) services in response to a number of highlighted local issues. This provided an opportunity for local people to share their experiences, thoughts and wishes to help inform best practice and shape local services.
The Review is made up of feedback from three different surveys which gathered views from the general public, from families with experience of supporting a family member at the end of their life, and from professionals involved in EOL care and support.
The report makes detailed recommendations which are aligned under the Greater Manchester Health and Social Care Commitments. These commitments set out what individuals with palliative and end of life care needs can expect across Greater Manchester and provide a baseline to measure the quality of care provided in Oldham. 
The review will be presented to the Oldham Scrutiny Committee on the 24th March 2020 to be signed off and then it will be the responsibility of the Oldham Health and Wellbeing Board to make sure that services respond to each of the recommendations in the report.