Talking About Dying: A Review of Palliative and End of Life Care in Oldham
Healthwatch Oldham has undertaken an End of Life Review to gather the experiences of families and carers who have supported a family member through palliative and end of life care in Oldham.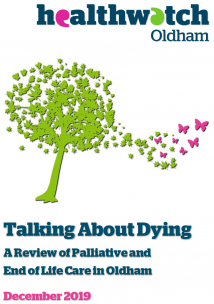 Between July and December 2019 Healthwatch Oldham carried out a review of palliative and end of life (EOL) services. This was an opportunity for local people to share their experiences, thoughts and wishes to help inform best practice and shape local services. This report presents the feedback from over 180 people who took part.
Family members and carers shared their stories of supporting a loved one at the end of their life. The review gathered the experiences of Oldham residents using Oldham services as well as a small number of residents who accessed palliative services in other parts of Greater Manchester. Through in-depth interviews we identified recurring themes and challenges faced by families as well as the key attitudes and types of care that make a good end of life experience. These findings have informed our recommendations.
We recognise that talking about death and bereavement can be very upsetting and we want to thank all the families, carers, partners and friends who took part in this end of life review. Their willingness to share very personal and emotional experiences will help others by informing the recommendations in this report and helping to shape end of life services across Oldham.
We would also like to thank the practitioners and organisations who completed the professional survey for their honesty and vital insight into the realities of providing care, and for taking the time to meet the Healthwatch Oldham team to explain how end of life services operate across Oldham.