Healthwatch Oldham Annual Report 2018-19
We hope you like the new format for the Annual Report which sets out the work of Healthwatch Oldham over the last 12 months and includes examples of how we have engaged and supported Oldham residents.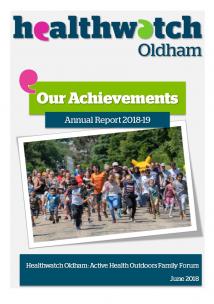 Our year at a glance:
534 people shared their health and social care story with us, 21% more than last year.
We have 16 volunteers helping to carry out our work. In total, they gave up 244 hours of help, support and advice to local people.
919 people accessed Healthwatch advice and information online or contacted us with questions about local support, 49% more than last year.
We visited 9 services, 26 community events and held 7 focus groups to understand people's experiences of care. We dealt with 61 new NHS complaints and closed 42 cases.
We set out 19 improvements which were adopted by services to make health and care better in our community.
Over 3,000 people have engaged with us through our website and social media.
Here are a few words from our new Manager Julie Farley:
I joined Healthwatch Oldham in 2018 and feel very privileged to be working as part of a dedicated team of staff and volunteers. I love the fact that no two days are the same and that the whole team are committed to improving the experiences of Oldham residents who use health and care services. Looking ahead we have an exciting and challenging year!