Healthwatch Oldham - Haematology Report
Our latest report contains findings from an engagement exercise we carried out on F11, Haematology Day Unit at Royal Oldham Hospital with 41 patients and 15 relatives and friends over four three hour sessions during February and March 2018.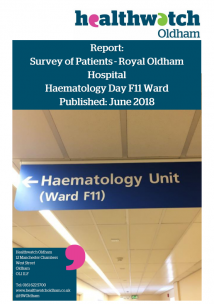 Over the years things have become less institutionalised, less formal and friendlier
Key Findings
There is much to be celebrated in this department. The overall experience of patients and their family and friends of the Haematology Day Care Unit was very positive.
Patients and family and friends felt well informed and if in doubt felt confident to ask a member of staff. Everyone had something positive to say about the whole staff team and overall patients were happy with the medical treatment they had received enjoying the relaxed atmosphere in the Treatment Area.
However, the following areas of concern were consistently raised by the majority of patients and their family and friends:
Overcrowded waiting area
Long waiting times
Low levels of qualified staff
Not enough car parking spaces
You can access the full report including findings and recommendations on the button below: