Healthwatch Oldham are recruiting Board members
Can you help improve health and social care services in Oldham? Do you want to guide the work of Healthwatch? If so, Healthwatch Oldham wants to hear from you!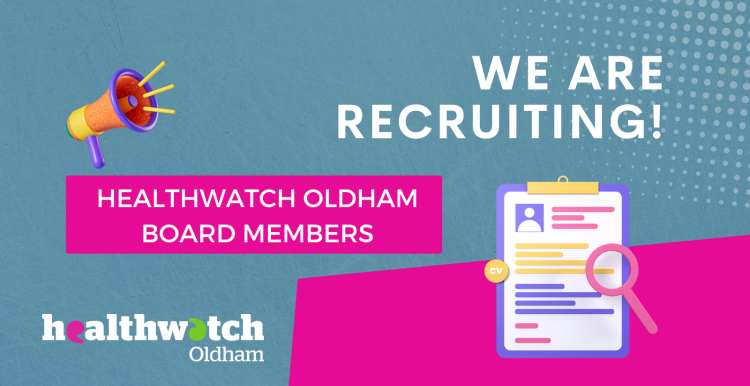 Healthwatch Oldham (HWO) provides an independent consumer focus for local people using NHS and social care services in Oldham. HWO gathers the views of local patients, service users, and families to review the quality of health and social care services and shape how services are designed and delivered.
We are looking to appoint additional board members, with one or more of the following specific experiences or knowledge:
A specific interest in health and social care.
Delivering public services, particularly within a health and social care environment.
Running an information or advice service for members of the public.
Experience in managing domiciliary care or residential/nursing home services.
Management or leadership of a voluntary organisation or social enterprise.
Experience in working with children and/or young people.
Strategic management of a large organisation.
Community engagement with local residents to enable their experiences to influence policy and service delivery.
Experience of tackling Health Inequalities.
We want to ensure that the Healthwatch Oldham board collectively has all these experiences. If you feel that you have something to contribute from at least one of these areas and would like to be considered for an appointment on the board, please complete the Expression of Interest form at the bottom of this article and email it to the Healthwatch Oldham Manager Tamoor Tariq, at tamoor.tariq@healthwatcholdham.co.uk
At Healthwatch Oldham we value diversity, promote equality and challenge discrimination. We encourage and welcome applications from people of all backgrounds.
Healthwatch Oldham is keen to encourage applications from communities experiencing racial inequalities who are currently underrepresented on Board.
Deadline for submitting expressions of interest – Midnight - 19th September 2022
For more information about Healthwatch Oldham please visit our website at
Healthwatch Oldham is part of Action Together CIO. Action Together is legally accountable for the delivery of Healthwatch. Still, it has created a Healthwatch Board to have oversight of the work and to ensure that Healthwatch priorities and work plans are set independently.