Remote Appointments Survey
Have you experienced a remote appointment with an NHS Health Professional in the past 12 months? We would love to know how you found this experience and have created a survey to better understand what you think worked well and what could be improved.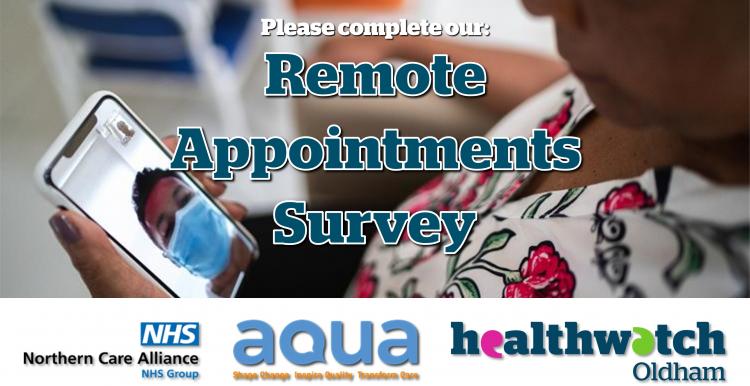 Healthwatch Oldham, the Northern Care Alliance and AQUA (Advanced Quality Alliance) have co-produced a survey to help identify how people have found the experience of a remote appointment, including what has gone well and any areas of improvement.
The Northern Care Alliance are producing a guide to help patients get the best out of their remote appointments and the feedback obtained will help shape the content included and assist services so that they are able to provide you and other patients with the best possible experience.
A remote appointment is a meeting between yourself and an NHS Health Professional using a telephone or a video call via an App (where you have not been able to visit a service for a meeting in-person). These could be any appointments, including hospital appointments, GP appointments, and community service meetings. Our goal is to produce a guide to help patients get the best out of their remote appointments.
The survey will close on the 23 April 2021.
The survey should not take long to complete and can be accessed on the link below:
Also, why not get involved in our focus groups?
We are hosting a couple of focus groups designed to obtain the views and experiences of those who have had to have a remote appointment in the past 12 months.
Your feedback will contribute to the information collected within the online survey helping shape these services moving forward and assist in the production of a guide which the Northern Care Alliance are producing help to support patients with remote appointments.
The two focus groups we will be hosting will take place on 14 and 15 April 2021 between 10am and 11am. One group is based upon general appointments you may have had (15 April) and the other is based on remote appointments people who are living with cancer may have had in the past 12 months (14 April).
If you are interested in being part of these focus groups then please contact us on 0161 622 5700 or email your interest at info@healthwatcholdham.co.uk